Tents, camper vans and small motor homes are welcome. We have a few hook ups available for those who want electric but we are not a commercial site with lots of fancy facilities - however we do have just what you need ! Both fields have 2

stand pipes supplied with treated drinking water from our own borehole. There are 3

hygienic and modern compostable toilets and 3 fabulous indoor hot water showers together with outdoor Belfast sinks for washing, cleaning teeth, washing up etc.
Campfires are allowed in our own off the ground firepits which are available for hire for just £3 per stay however long you're here. We sell qualitylogs and kindling at competitive prices.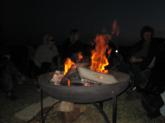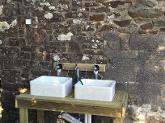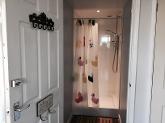 Our 'Summerhouse shop' sells camping food basics: milk, local farm eggs, baked beans, pasta, ice, marshmallows, skewers, chocolate...

Cream Teas and home made cakes are available. We canoffer you both gluten free and vegan home made treats.
We can arrange to pick you up from Umberleigh or Portsmouth Arms train stations on the scenic Tarka trainline.